Potter Valley Irrigation District History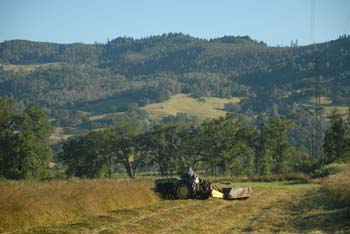 Take a drive up the Eel River Road to the turn out on John Day Hill, stop and look south over Potter Valley and you will see a patch work of green and gold fields dotted with blue ponds and framed on the east and west by oak and fir covered hills. Depending on the time of the year you might see pear orchards in full bloom that look like it snowed only on tidy squares of land, hay fields with windrows of cut hay ready to be baled, trellised vineyards with jade colored berries of white grapes or clusters of deep purple fruit that will become wines rivaling the best in the world, new lambs sleeping beside ewes in pastures of spring grass, cattle and horses grazing, old redwood barns, farm houses with fruit trees and gardens filled with flowering shrubs brought by pioneer families. You will see a vibrant farming community with everything you might expect in a rural American town--- churches, a school, a store, post office and a volunteer fire department. Generations have been raised here. Farming is still a way of life here. This small valley is successfully farmed today due to the foresight of a few who recognized the value of water and organized the Potter Valley Irrigation District in 1924.
Formation of the Potter Valley Irrigation District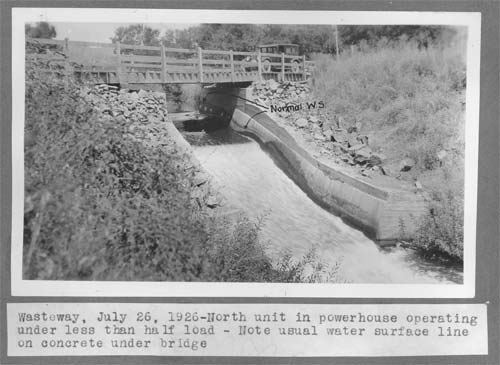 Prior to the construction of the Potter Valley Project by Snow Mountain Water and Power (SMWP), and even until after the construction of Scott Dam forming Lake Pillsbury on the Eel River, the farmers in Potter Valley had little water for irrigating crops during the late summer and fall. Potter Valley, seven miles long and two miles wide, has a very small watershed with a few tributaries to the East Branch of the Russian River which runs, from north to south, through the center of the valley. On normal years of rainfall the small creeks, such as Busch, Hawn and Mewhinney stop flowing by midsummer and on dry years the creeks no longer have surface flow as early as April. At first, after the Potter Valley Project was built in 1906, water was only diverted from the Eel River through the tunnel during high winter and spring flows because the natural late spring, summer and fall flows on the Eel River drop to levels so low that it was impossible to divert water through the Potter Valley Project. Scott Dam was completed in 1922 allowing winter runoff water to be stored in the, newly-formed, Lake Pillsbury and to be released in the summer for power production. It soon became clear to the farmers of Potter Valley that there was a new source of summer water and dry farming crops could be a thing of the past.
In 1921 and 1923 two petitions to create an irrigation district were reviewed by the Mendocino County Board of Supervisors. The first petition was defeated because some residents of Potter Valley did not want to be included in an irrigation district. The second petition was accepted after the residents, who so desired, were excluded from the original list of properties to be included in the new irrigation district. The Potter Valley Irrigation District (PVID) was formed on April 1, 1924 after a 110 in favor and 3 in opposition vote of the residents of Potter Valley.
The first formal meeting of the PVID and election of Directors was held on April 22, 1924. In the minutes from the first meeting at the Potter Valley Grange it shows that A.F.Busch was elected as the Chairman of the Board from Division 2, Director Charles Sagehorn from Division 1, Director James Eddie from Division 3, Director J.G.Newman from Division 4 and Director E.V.Jones from Division 5. R.R. Ingels became the Secretary, C.E. Hardisty Treasurer, A.F. Whittaker Assessor and Collector and Charles Kasch was the District's first Attorney.
On June 12, 1928 the people of Potter Valley voted to bond the District for $100,000.00 for 20 years. In August of 1928 PVID took bids for the construction of the canals, lateral, flumes and gates. The main canals were dug by rotary ditchers and the laterals were dug by teams of horses with V ditchers. Construction was slowed late in 1928 because of strong winter storms, but the construction was completed May 15, 1929. The first deliveries of water by the PVID began May 23, 1929. The Bond was retired July 1, 1952 and PVID has remained free of indebtedness since that day.
Water Rights and a Contract
Originally PVID had a contract for delivery of water from the Snow Mountain Water and Power. This contract, signed on September 31, 1926, was confirmed by the California Railroad Commission on July 25, 1930. Snow Mountain Water and Power sold to Pacific Gas and Electric Company (PG&E) and the PVID contract was transferred to PG&E on February 5, 1936, amended May 1, 1939, and is still in effect today. The contract requires PG&E to divert 50 cubic feet per second (cfs), for use by PVID, up to a total of 19,000 acre feet per year. PVID can use 16,600 acre feet of the 19,000 acre foot contracted amount during the summer. The rest of the year PVID can request water, at a rate not to exceed 50cfs, until the balance of the 19,000 acre feet is used. PVID purchases water from PG&E at a rate that can be renegotiated every five years.
PVID also has access to several perfected water rights granted by the California State Water Resources Control Board. Three of these licenses belong to PG&E. We are named as the place of use, and irrigation is listed as the specific purpose of the beneficial use in two of these licenses. These three water rights licenses are for water stored in Lake Pillsbury, or available in the Eel River (License #1424, #1199 and #5545) and form the legal basis of the water delivered to PVID by PG&E. A fourth perfected water right is held by PVID (License #5246) for water released below the Potter Valley Powerhouse into the East Branch of the Russian River. These perfected water rights, when combined, clearly state that PVID has the right to use 22,670 acre feet of water per year, at a combined rate not to exceed 100 cfs at any given time. Under our water rights we have the right to irrigate, in our net place of use, 4,905 acres and our gross place of use is 23,040 acres.
Alternative Sources of Water in Potter Valley
In January of 1954, the PVID Board of Directors requested a survey of Potter Valley by the Willits Soil Conservation District to determine if there was a possibility of building one or more storage reservoirs that could hold the amount of water PVID requires per year to irrigate crops. This study was initiated in an attempt to become less dependent upon the water that had to be purchased from the Potter Valley Project. The results of the study determined that there were six potential sites, however, none of these sites could store more than 3,700 acre feet of water (some only 1,000 to 2,200 acre feet) and the reliability of sufficient runoff to fill these small reservoirs year to year was in doubt. The six small reservoirs would have potentially held up to 14,400 acre feet and cost, on the average, $81.00 per acre foot to build. That would have been $1,169,000.00 in 1954. The concept was abandoned.
Some have suggested that PVID simply use ground water to irrigate the valley. In 1985, Ralph Scott, a geologist with the California Department of Water Resources stated that Potter Valley has a fractured aquifer, (Potter Valley is geologically referred to as a "pull apart valley" which is formed by a fault), where no ground water pool can form because of a tectonically ruptured rock base.
Our Crops
Today PVID provides irrigation water for 390 farmers irrigating within the PVID boundary of 6,900 acres of land. PVID delivers water to our customers via a series of gravity fed canals. The system has 16 miles of main canals and 18 miles of secondary laterals. To date, 9,700 feet of open ditch main canals and 19,520 feet of open ditch secondary laterals have been put into pipe. Potter Valley farmers have built 33 water storage ponds that can hold approximately 650 acre feet of water delivered by PVID. The main crops irrigated in Potter Valley include pastures for grazing cattle and hay production, pear orchards, wine grape vineyards, row crops, nurseries and a few sheep, horse and goat farms. On average, taking the last 20 years of water sales, we have sold 16,545 acre feet of water per year with a maximum during this time period of 21,508 acre feet and a minimum of 11,631 acre feet. The amount required varies yearly due to weather conditions.
A Moratorium
As mentioned in the section titled History of the Potter Valley Project, PG&E diverts water from the Eel River under a hydroelectric license granted by the Federal Energy Regulatory Commission. The license was reissued in 1983 with several amendments requiring studies to be completed. After 27 years the impacts of the final license amendment, completed in 2004, are still being analyzed. The flows through the Potter Valley Project have been reduced by over 33% from those allowed in 1983. Because of the protracted license amendment proceeding, to protect the water supply available for existing customers, PVID has a moratorium in place precluding new land annexations into PVID's boundaries.